Live Streaming from Baltimore: Plenaries, Awards, and the AFS Business Meeting will all be livestreamed. In addition, two symposia per day will be livestreamed, and some in-person symposia may opt to host live online discussion sessions or other special sessions. Links to live events will be available on the Attendee Hub 5-10 minutes prior to the event start time.
On-Demand Presentations: Most other presentations will be available on the Attendee Hub in a pre-recorded, on-demand format with asynchronous Q&A functionality.
Virtual Sessions through Cvent: if you would like to schedule a virtual session within Cvent, be it a panel discussion or collaborative event, please use this form. These sessions will use the Cvent Video Player which is a version of Zoom video conferencing. Please note, however, that it is past time to request dedicated internet lines, and the meeting room WiFi is unlikely to have sufficient speed to support video streaming on site.
While AFS has secured WiFi in all meeting rooms at the Annual Meeting, the speed of this Internet is not likely to provide quality service for video streaming. Meetings using only audio streaming may perform better, but the WiFi is primarily set up for use of the Meeting App, email, and other basic Internet activity.
Student Virtual Activities: Several special activities for students and mentors have been set up – please see the Student Activities page for more information and sign up via Registration.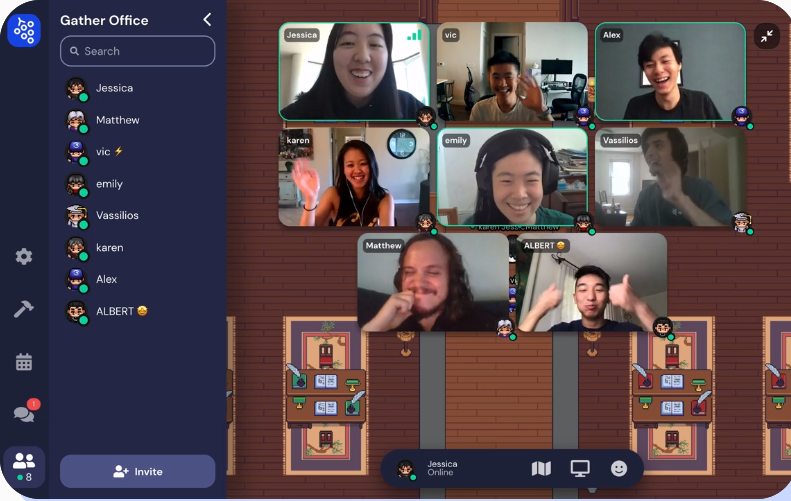 Virtual Sessions Through Gather.Town: What is it? Gather.Town is a web-conferencing software like Zoom, but with the added component of seeing the virtual "room" you and others are occupying. Your avatar is to move around and interact with other participants based on your locations in the virtual room, just like real life. To learn more about this web tool, visit the Gather.Town website. Use of Gather.Town is free for all attendees, and can be accessed here with the password VIRTUAL2021.